---
Overview
With a Pull Sheet created, you can now scan equipment out of your available inventory. The equipment that you scan will have a current location of the job to which it was scanned out.
---
Scanning Out From a Pull Sheet
Open the Pull Sheet that you want to scan.
Click Go to Prep Screen in the Workbench Menu (in the Warehouse section, which is the barcode icon).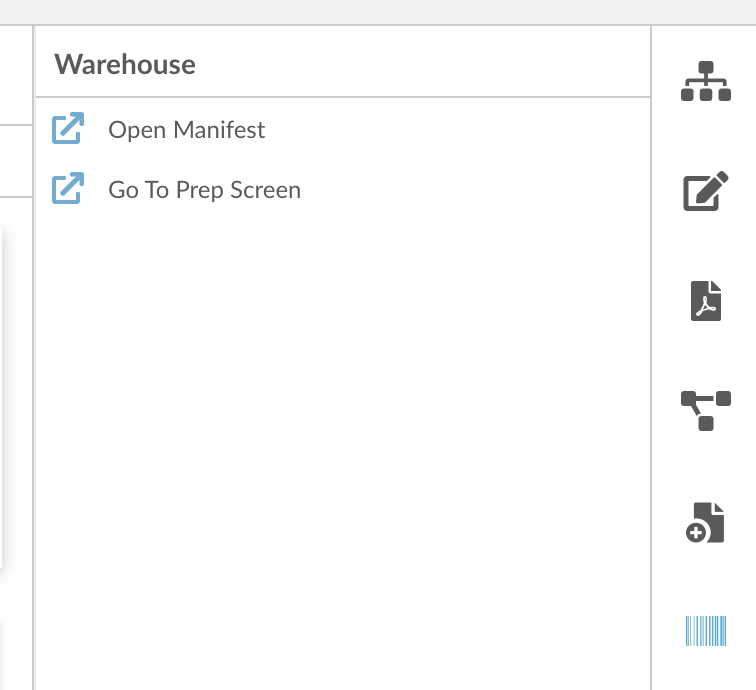 There are several methods for scanning equipment out:
Use a Barcode Scanner – For serialized items, you will scan the unique barcode found on each serialized unit of the model. For non-serialized items, you will scan the model barcode, then enter the quantity that you want to scan. See Serialized vs. Non-Serialized for more information.
Manually Enter Barcodes – You can manually enter a barcode into the barcode input box (to the right of the main menu in Flex). Like using a barcode scanner, you will manually enter unique barcodes for serialized units, and the model barcode for non-serialized items.
Virtual Scan – To virtually scan an item, double-click on the line item in the prep screen. If you virtually scan a serialized item, a window will appear asking you to select a specific serialized unit to send. If you virtually scan a non-serialized item, the quantity prompt will appear asking you to enter the quantity that you want to scan.
---
Substituting a Line
You can substitute equipment during the prep process. For example, if you don't have enough 50 foot cables to fill the order, you can substitute them for 100 foot cables. Click the "..." menu on the line for the 50 foot cables and click Substitute Line.

A red prompt will tell you that the next item you scan will substitute for the original item (you can press escape on your keyboard to cancel the substitution scan). Now, if you scan a 100 foot cable, the scanned quantity for the 50 foot cable will increase, but the 100 foot cable will be placed on the manifest.
Doing this will allow you to fulfill the quantity for the item that you don't have enough of, but still have a scan record for the item you used to substitute.
---
Finalizing a Pull Sheet Prep
As you have been scanning, you might have noticed that a green check mark appears next to any line item that has the quantity completely fulfilled. You will also see a green check mark next to any subtotal that has been completely fulfilled.
If you are ready to finalize, click Finalize (the lock icon in the top right corner).

Technically, the Pull Sheet doesn't have to be 100% prepped in order to finalize it. You can finalize the prep at any point.