---
Introduction
This article will cover the basics of getting started with your Flex to Google Calendar integration. We'll start by looking at settings for Security Groups and User Permissions. Continue on to learn how to connect your Google account to Flex. Be sure to check out the Overview and Key Concepts for general information.
Are you here by mistake and looking to
disconnect
?
---
Setting up Security Groups and User Permissions
To use the Google Calendar integration, each user must have the necessary Permissions in Flex. System administrators can change permissions by Security Group and/or change permissions on the individual user.
To enable permissions on this integration, set the "Can Sync With Google Calendars" permission to Grant.

---
Connecting to Your Google Account
Navigate to the Google Calendar integration settings:
On the

Main Menu, click Integrations.
Click Google Calendar.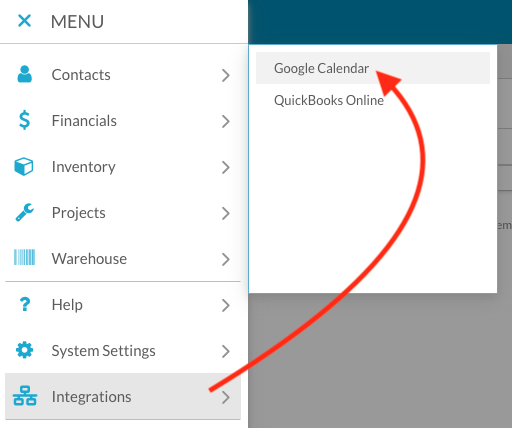 A new Flex tab will open showing Google Calendar integration settings. In the header, click the Connect Account icon.
A new browser tab will open to connect Flex and your Google Account.
If you're logged into Google in the same browser, you are ready for the step below.
If you're not logged into Google, sign in to your Google Account as prompted.
If a new tab doesn't open after clicking the Connect Account button, you might have to disable your browser popup blocker or temporarily allow popups.
You'll be prompted to allow Flex to access your Google Account. Click Allow.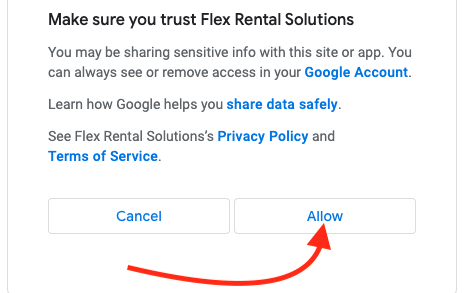 A message will show confirming the connection. Close the browser tab and return to Flex.
Click OK on the Authenticating to Google Calendar popup.
---
Next Steps
Now head over to the Adjusting Settings for Google Calendar article to continue setting up your Flex to Google Calendar integration.
If you need to connect more than one Google account, head over to the integration settings article.
---