---
Overview
Flex can only guarantee functionality for Zebra Printers with EPL/ZPL Support. As of writing, ZPL is the preferred compatible print language. Printers must also have a network connection, either wireless or ethernet.
There are other printers available from manufacturers other than Zebra, which are "ZPL Compatible" While these printers should work with Flex, we cannot confirm their compatibility and may be limited in the support we can give.
Configuring a barcode printer to be used with Flex requires several steps:
Set-up and connection of your printer
Configuring your network
Configuring your settings in Flex
Do not connect to your printer via USB. Flex cannot function with a label printer connected via USB.
---
Set-Up and Connection of your Printer
For any changes you may make to your printer itself, such as print mode, speed, darkness, and direct thermal/thermal transfer mode, please refer to the instructions included with your printer.
First, you will need to unbox and set up your printer. Unbox, and remove all shipping material that may be outside/inside your printer to ensure it is ready to use.
Load your label stock, and your resin ribbon (if applicable), connect your network cable (if applicable) and power cable. Turn your printer on!
You'll know your printer is all set when the status indicator on the printer is solid green. Red may indicate that your printer's cover is not fully latched, and flashing green may indicate that the printer has not calibrated the media- if this is the case, press the feed button, and your printer should complete this process and show a solid green status light.
To check, press the button again, and your printer should feed out exactly one label. If not, reopen the printer, ensure your labels are installed correctly and aligned, close the cover and try again.
Once your printer is ready, you should check to ensure it is connected to your network. If your printer is using WiFi- follow the instructions that came with your printer to get it connected to your organization's WiFi network.
Once you have verified the printer is connected to your WiFi or with Ethernet, you must determine its Local IP Address. There are two ways to accomplish this:
Access your router and find your printer's Local IP Address on your router's client list
Print a status report fron the printer by holding the feed button until the status light blinks once. (Note: This will use some labels) The IP Address will be part of this printout.
Not all Routers are the same- for the next step, it may be useful to also make note of your printer's MAC address at this time.
---
Configuring your Network
Your Printer is loaded up, turned on, connected to your network, and you have the printer's Local IP Address. Next, you'll access your organization's network to ensure three things:
Your Printer's Local IP Address will not change
You have forwarded a port, usually 9100, to the printer's Local IP Address.
There is not any additional firewall or security appliance which could additionally block the port.
So first, we want to make sure our printer's Local IP Address is not going to change. This setting will vary from router to router, but this setting is usually called DHCP Reservation, or Static IP. Refer to your router's documentation if you are unsure. This setting will allow you to make sure the Printer always has the same Local IP Address. Alternatively, you can configure the printer itself to use a static IP address by accessing the printer's settings directly and changing the printer's networking settings accordingly.
Next, we want to forward a port to our printer's Local IP Address. This allows flex to send commands to the printer. This setting will typically be called something similar to Routing or Port Forwarding. If this is the first printer you are setting up with Flex, the port to forward is 9100. Subsequent printers added should have this number incremented (Printer #2 is on port 9101, etc.) If your router asks if the port is for TCP, UDP, or Both, select Both.
To check if you have successfully completed this step, go to a port checking website like the one from You Get Signal by entering your Public IP Address and the port number of the printer, and clicking check. If the result is Open, then you have successfully configured your router.
---
Configuring Flex
As of writing, you must currently perform these steps within Flex4, as the configuration options are not currently implemented in Flex5.
If you were a Flex customer before May 2020, your system does not have the updated label templates. Click here to download them. For each template, there are two files. An .lbl which can be further customized in ZebraDesigner, and a .txt file, containing the template text used with Flex.
Finally, you'll configure your printer for Flex. We will assume that you are using a label size of a default template.
After logging in, click System Settings, then Raw Printers. Double-click the first line, "Barcode Printer" to configure your first printer. If you are adding another, click "New Raw Printer" in the workbench.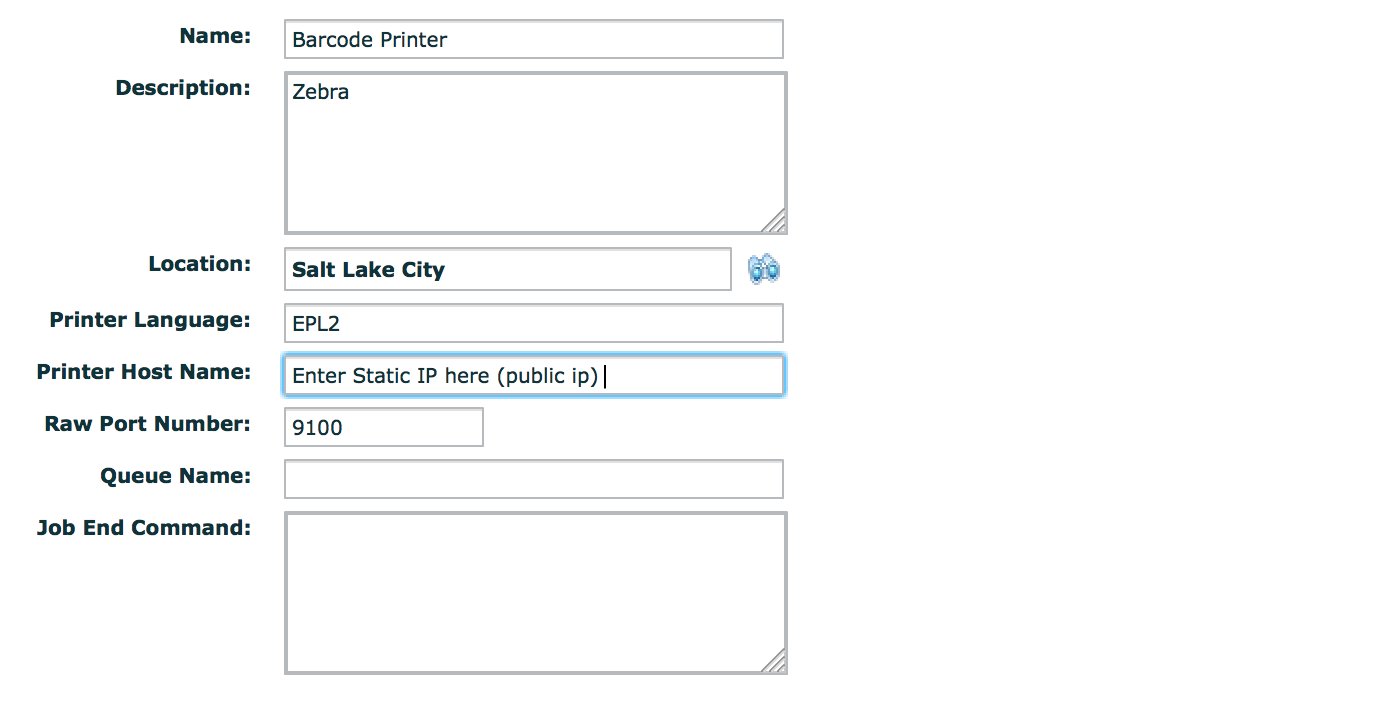 You can put whatever you like for Name, same for Description if you would like to store some additional information. You can use the Location field to further categorize, if you have multiple locations. The Printer Language field is a reference, and does not affect functionality. Printer Host Name is where you will place your Public IP Address. This value will be the same for every printer at that location typically. Similarly place the port number in the Raw Port Number field. For each printer at a location, start from 9100 and increment by one. Queue Name is a deprecated field, and is not used. Job End Command is an optional field and is only used in advanced configurations.
Now, try printing a barcode from Flex to test your connection.
Open the inventory model or serial unit for which you want to print a barcode.
Click the Print Barcode option in the Workbench Menu.
Choose the printer from which you want to print the barcode.
Click ACCEPT.
Enter the quantity of barcodes that you want to print, and click ACCEPT.
If Flex hangs on the "Printing" screen, which can indicate an incorrect configuration, You will have to refresh your browser to reload Flex.
If you are unsuccessful in printing a barcode, please review all the steps above and/or contact an IT professional or Flex Support, for assistance.