---
Overview
There are two ways to search for all types of "Elements" (Quotes, Invoices, Event Folders, etc.) in your Flex system that don't involve needing to locate them on your Calendar. The Search icon lets you find nearly any resource, document, or element that exists in your system. Use the dropdown to view and change filters, or you can view and search for elements from the Projects menu, located in the Main Menu.
---
Searching from the Resource Browser
Click the Search

icon

in the Resource Browser.
Enter your search into the search bar.
To narrow down your results, you can choose the

type of element you want to find by selecting the

checkbox from the drop-down filter.
Double-click any result to open the element.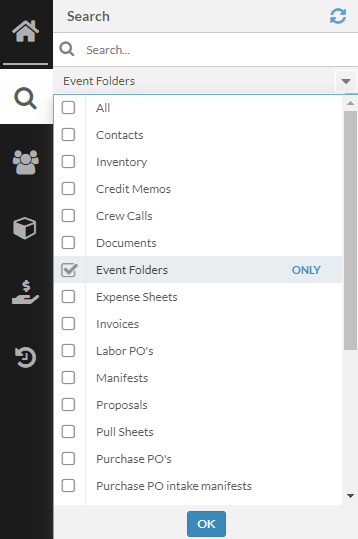 ---
Searching from the Projects Menu
Select Projects, located in the Main Menu.
Select the element type you want to find.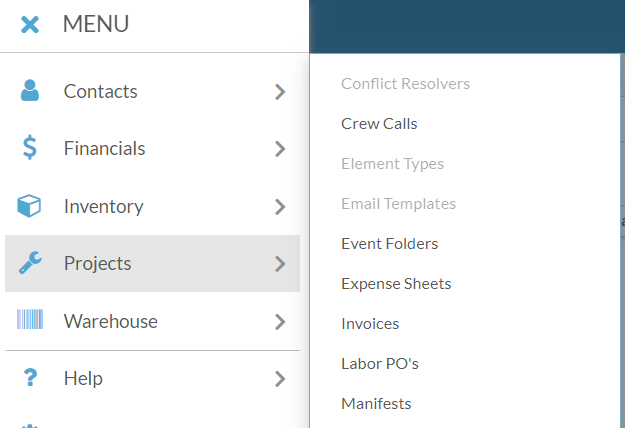 This screen includes the following search features:
Filters (located above the column headers)

These allow you to type to search or choose an option from drop-down menus.

Footer icons & options (shown below)

Show Deleted Only
Include Closed

You can double-click any element to open it in a new tab. Additionally, you can select multiple elements (using the check box next to the name), and perform bulk actions using the footer icons.
---