---
Overview
Flex5 Beta is in active development. Some features and functionality are not yet available in Flex5. Please see the Flex5 Beta Information page for a detailed list of currently available features, forthcoming features, and new/improved functionality.
Flex features a responsive user interface, making it suitable for a variety of screen sizes, as well as devices. Learning the layout of the user interface will serve you well in becoming an efficient user of Flex.
---
Main User Interface
Home Screen - Daybook
By default, when you log into your instance of flex, you will be presented with the Home Screen,
or Home Tab. This view displays a calendar in Daybook view, which shows all quotes and other enabled elements within a 30-day window. If you have made changes to your calendar in Flex4, you should see the same changes reflected in Flex5- For example, below, the calendar is set to only show a seven-day window.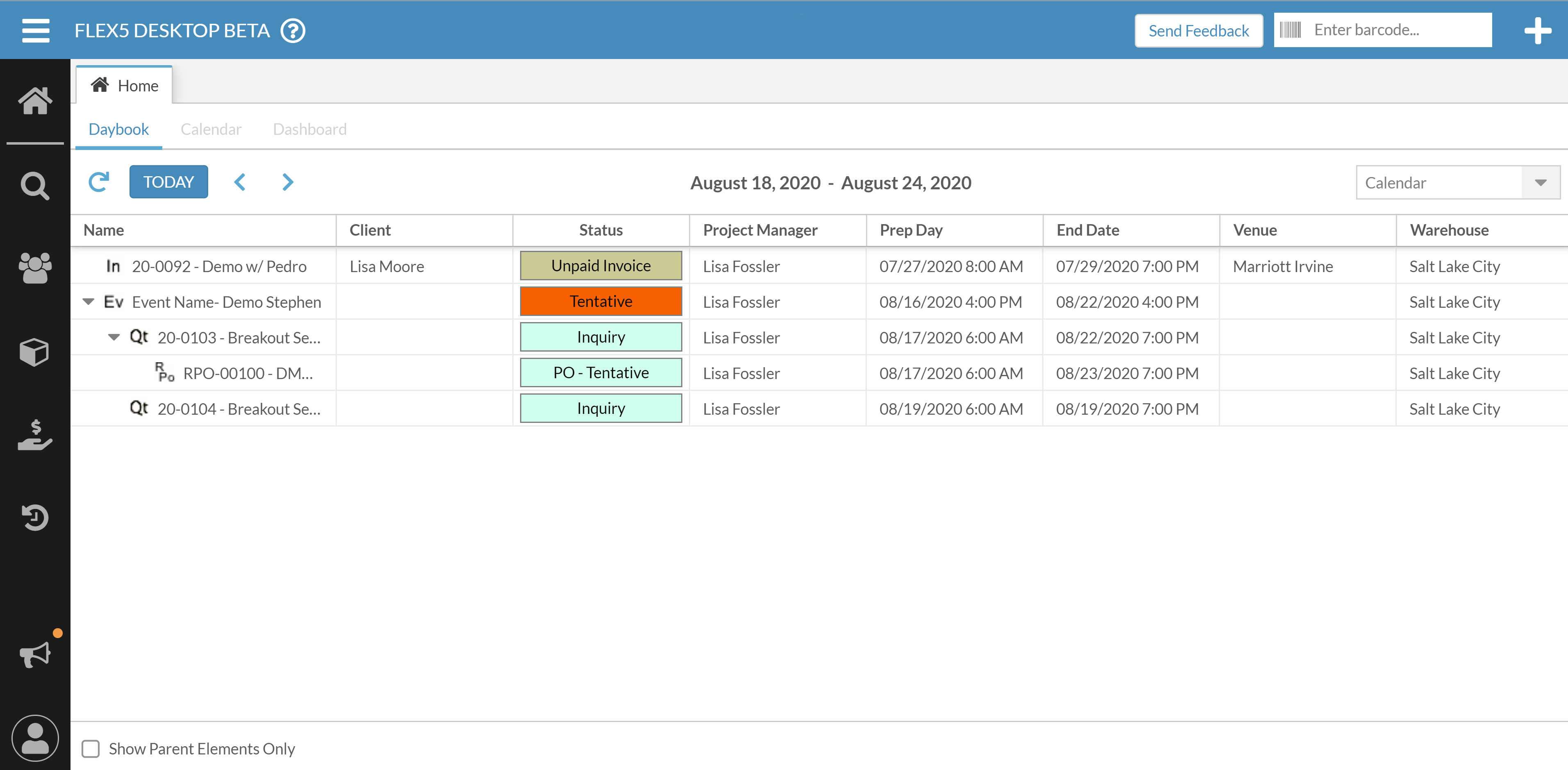 To the left of the date range, you can click the icon to reload the calendar on the currently selected date range. To revert the date range back to one which covers the current day, click the TODAY button.
The icons can be clicked to change the date range to be past or present of the current one.
To the right of the date range, you can click the drop down menu to change the current calendar to a different available one. Currently, additional calendars must be configured first in Flex4.
Home Screen - Calendar
In addition to the Daybook view, you can alternatively view the calendar in a traditional Calendar view.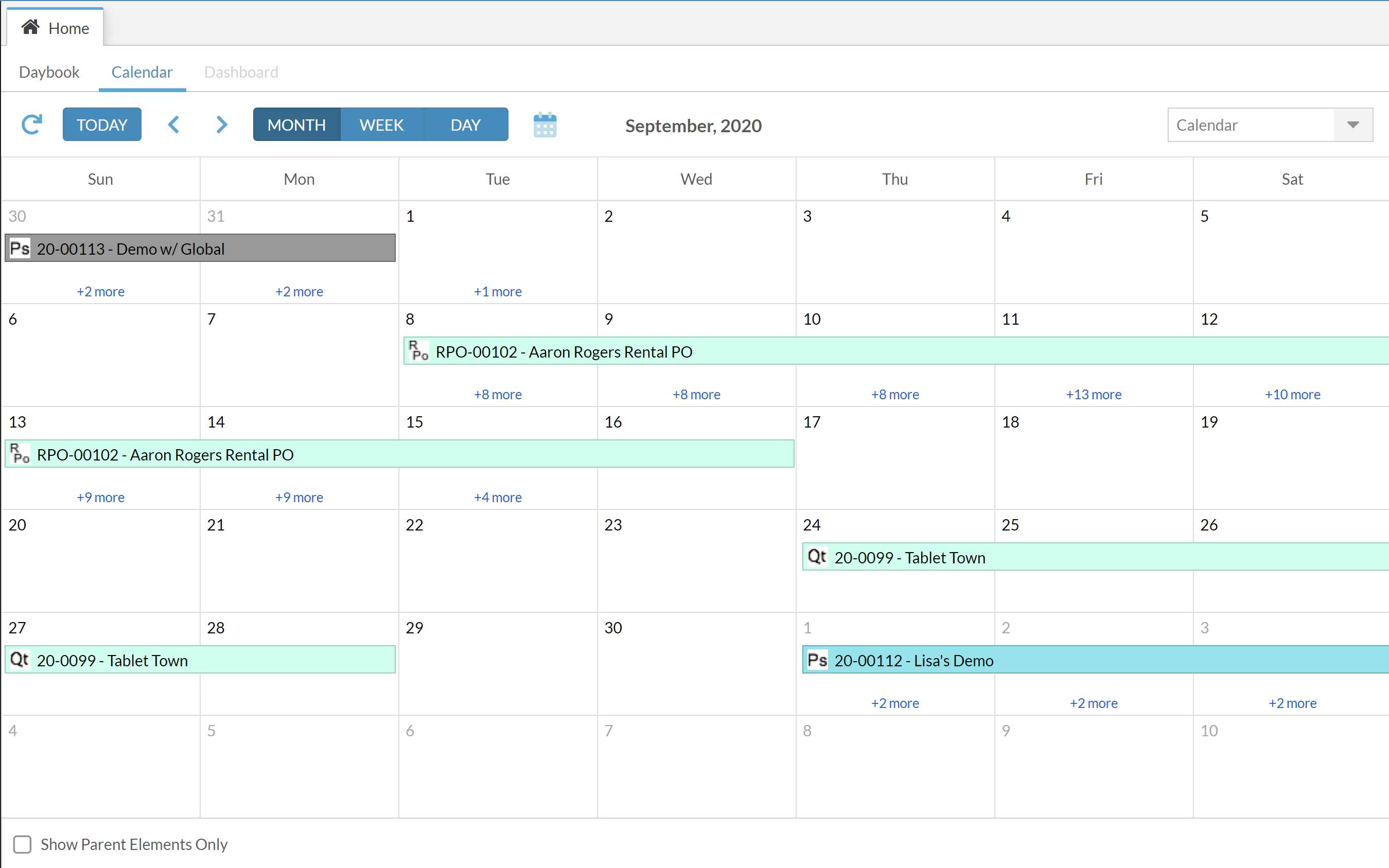 As with Daybook view, you can click the icon to reload the calendar on the currently selected date range or click the icons to change the date range to be past or present of the current one. Additionally, we can change the Calendar View between MONTH, WEEK, and DAY.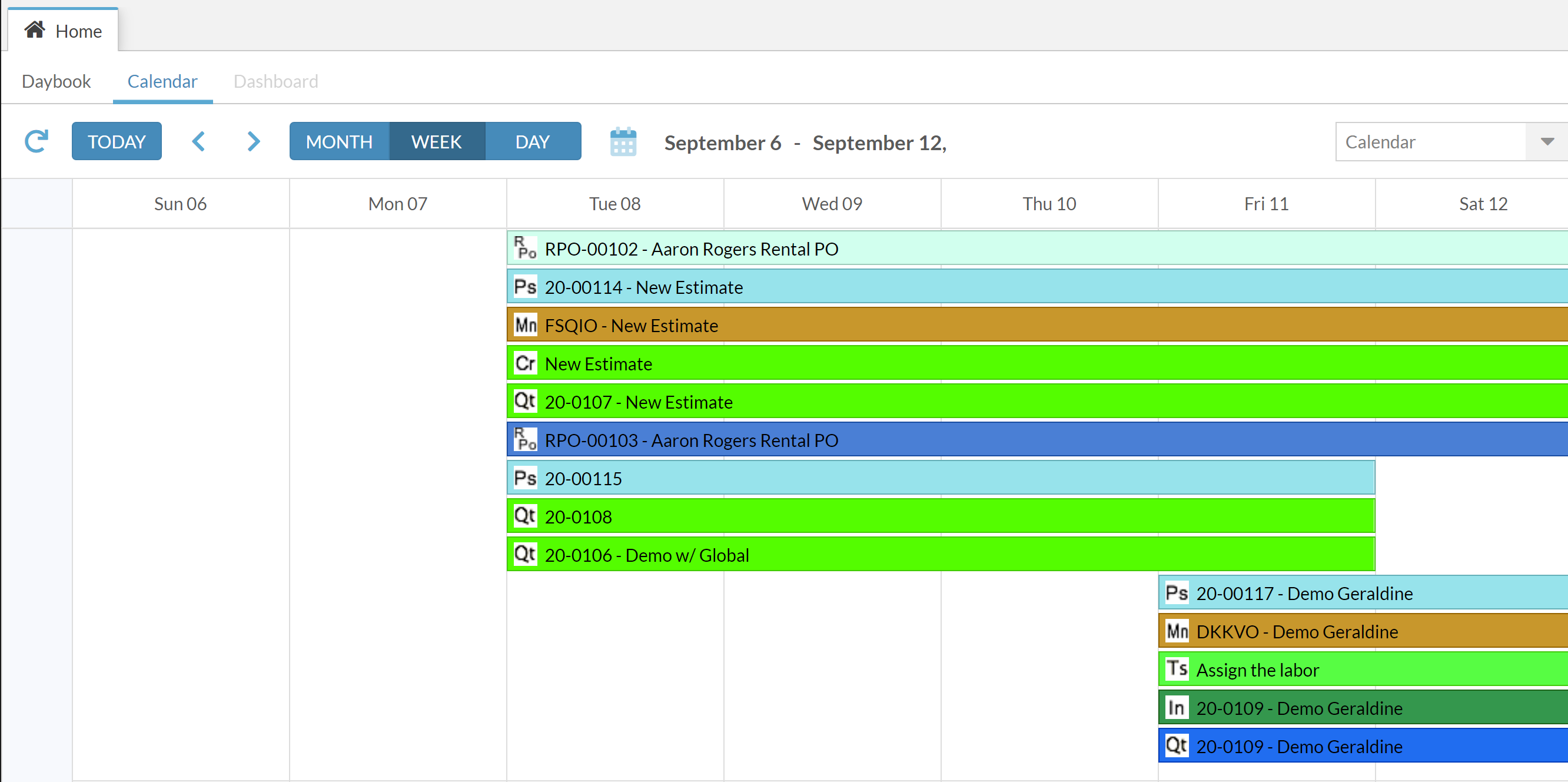 By default, the Calendar View will open to the MONTH view.
Main User Interface
In the upper left hand corner, the icon will open the Main Menu and reveal its options, matching the functionality of the menu bar in Flex4. Below that, the icon will re-focus the Home Tab.
Moving down the left side, the next five icons comprise the Resource Browser.
Further down, clicking the icon will open the What's New window, where you can see all of the recent changes, improvements, and notes on the latest version of Flex5. An orange dot above the icon indicates new unread notes.
Finally, clicking the icon will open the Profile window, where you can check which user is signed into Flex, as well as sign out of Flex. It's always a good practice to sign out of Flex when you step away!
Along the top, we can see the Send Feedback button, which can be used to send feedback about Flex5 to the development team.
The Barcode Entry Field is used to enter the barcode numbers of assets in your system. Numbers can be entered in this field manually, or automatically with a properly configured scanner.
Finally, in the upper right hand corner, clicking the icon will open the New Element Menu, where you can create new Quotes, Pull Sheets, and more.
---
Main Menu
Flex5 Beta is in active development. Menu options on your instance of flex may be grayed out. This means that the particular option or feature has not yet been implemented in Flex, but will be in a future update.
Clicking the icon will open the Main Menu. Unless you already have a dialog box open in Flex, you can click the icon from virtually anywhere in Flex to open the Main Menu.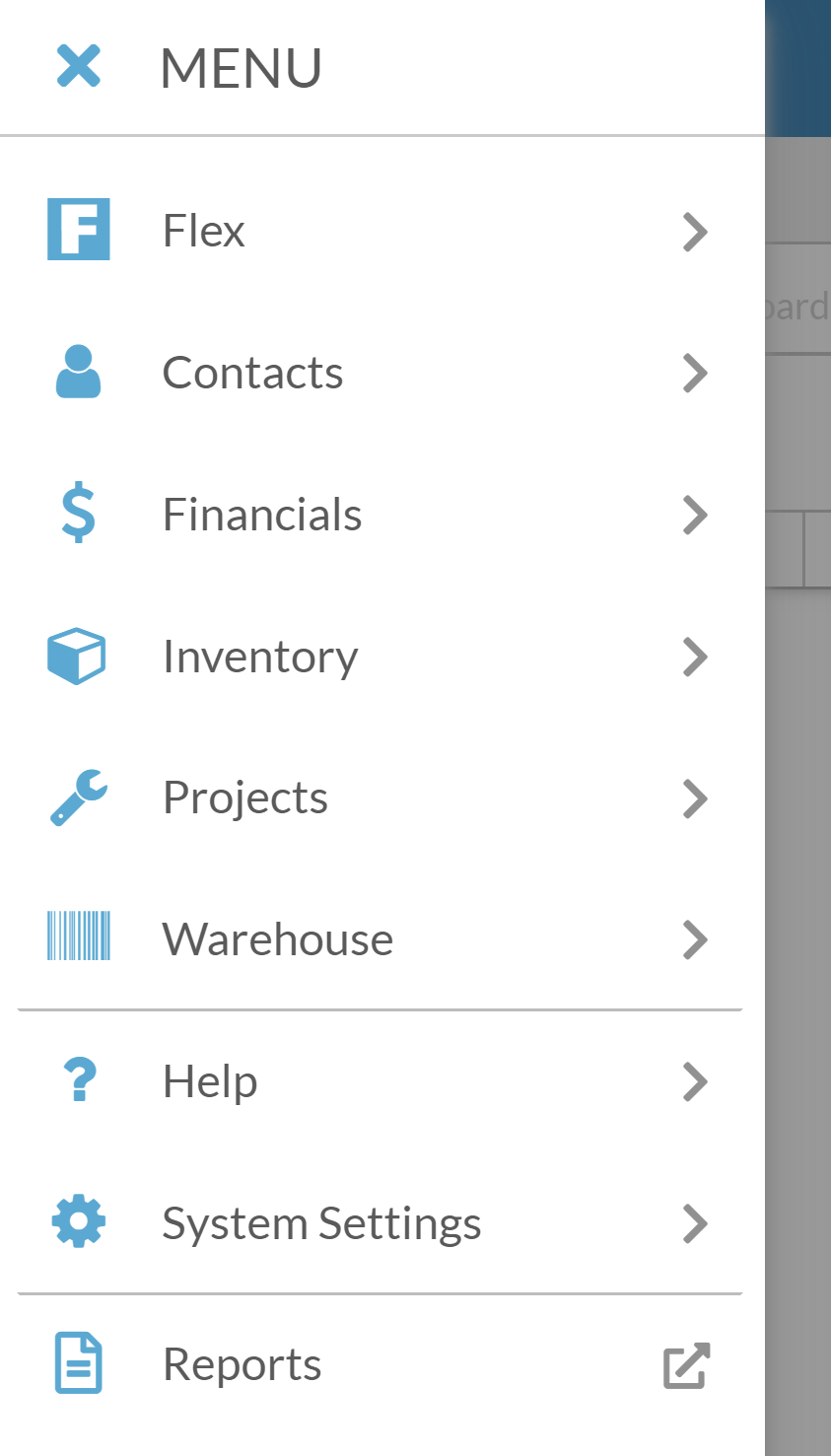 The Flex menu will contain options for signing out, and changing your account's password. As with Flex4, Users with the appropriate privileges will also use this menu to open the dashboard and system status tabs.
The Contacts, Financials, Inventory, Projects , and Warehouse menus contain options, configurations, and helpful shortcuts to create new resources or lists of resources with filters.
The Help menu contains helpful links to the Flex Community, Help Center, YouTube Page, and more!
System Settings is where you will find the majority of configuration and settings screens within Flex.
And Finally, Reports will open a new Flex Tab where you can run various Definition Level Reports in your system.
---
Resource Browser
Flex5 Beta is in active development. Settings and functions mentioned below may not yet be implemented in Flex5, but will be in a future update. An asterisk (*) indicates an option currently only exists in Flex4.
The Resource Browser can be used to organize, sort, and find nearly anything in your Flex system. Its layout and function remain unchanged from Flex4, with added improvements in search, and the ability to expand and contract tabs to free up space within your browser window.

Search lets you find nearly any resource, document, or element that exists in your system. Use the dropdown to view and change filters.
Contacts acts as a way to quickly sort through contact records, and as a way to quickly add new ones. At any time, you can right click on any of the contact resource types like Clients or Vendors to quickly add a new individual or company contact record. You can add more resource types in the Resource Types menu in System Settings*
Inventory shows you a categorized view of the inventory models in your system. At any time, you can right click on a group or sub-group to create a new inventory model, and to create and edit inventory groups*, and click-and-drag models and groups to organize*. Click-and-drag models out of this tab to add them to quotes and other documents.
Services is where you can view all of the existing service offerings in your Flex system. These are typically "intangible" things that you don't keep stock of, but would otherwise still bill for, like labor roles, and service offerings.
Recent History will display a rolling list of the last 25 opened records, models, units, elements, and documents, useful to quickly return to/reopen a closed tab.
---
Workbench Menu
The Workbench Menu was previously a permanent fixture of Flex4, pinned to the right side of the screen in virtually every screen and view within Flex4.
In Flex5, the Workbench Menu, still located along the right side of the screen, is now a collapsible set of tabs visible or not depending on context. For example, the Workbench Menu is no longer a part of settings screens, inventory models and units, as well as the calendar, with those functionalities being moved into the Detail Block.

Instead, the Workbench Menu becomes available when working on Project Elements, like Quotes, Purchase Orders, Pull Sheets, and more.
Elements will open the Project Element Tree for the one currently open, a helpful tool to reference and open elements related to the one you are currently working on.
Modify opens a menu where you can make changes to the header of an element, copy and paste line items, copy entire elements, reset pricing, move or delete elements, and more depending on context.
Reports displays all available and enabled Instance Level Reports available for the element you currently have open.
Logistics will display options to generate or update various documentation that can be utilized to aid in logistics processes.
Financials displays in proper context, applicable options to preform tasks such as entering payments on a financial document.
Workflow will show options based on multiple factors - the type of element currently open, as well as the current status of that element. Options shown here serve to move an element forwards or backwards in a process/life-cycle.
Add Child Elements will display a menu, depending on context, of different accompanying elements that can be added to the one currently open.
Reload in the bottom right corner will reload the currently open element. You can also do this by right-clicking the element's tab and clicking reload, alternatively.
---
Detail Block
The Detail Block in Flex is the area in the center of the screen, which occupies the majority of the available space. This area dynamically changes to display different views, such as what is seen in the Calendar, what is seen when you have a Quote or other Project Element open, and what is seen when you open an inventory model or unit.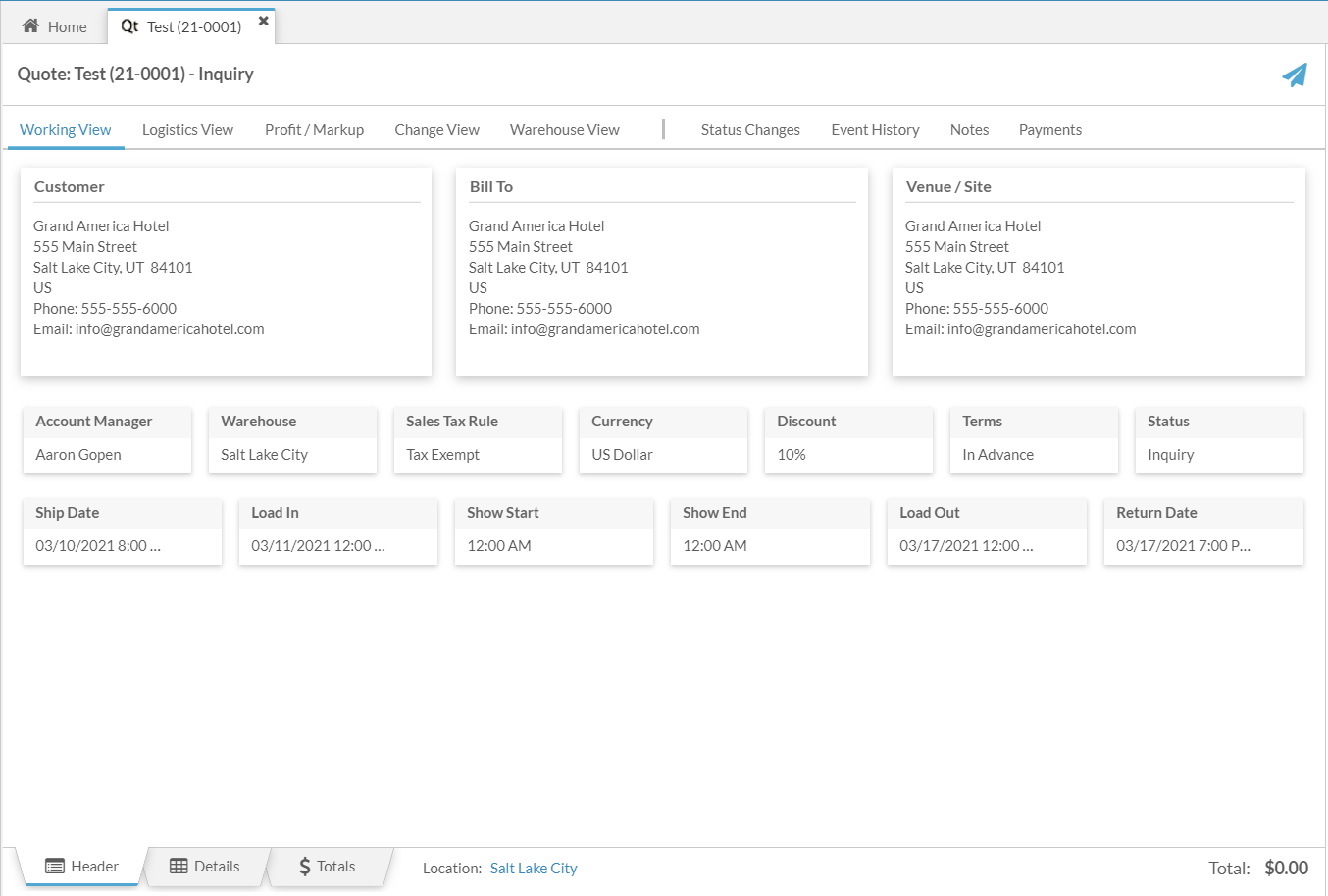 On Project Elements, like Quotes, there are two places to change your view- up top, you will see options like Working View and Logistics View- these change, based on configuration, which fields you see represented in the Detail Block.
Additionally, up top and to the right is our Send to Client button, which opens a dialog we can use to send a copy of the element to the designated client.
Down below, we see three tabs- Header, Details, and Totals. Note that Totals will only appear when applicable.
Conversely, on Inventory Models and Units, and other tabs such as settings pages, the Detail Block will show a different configuration.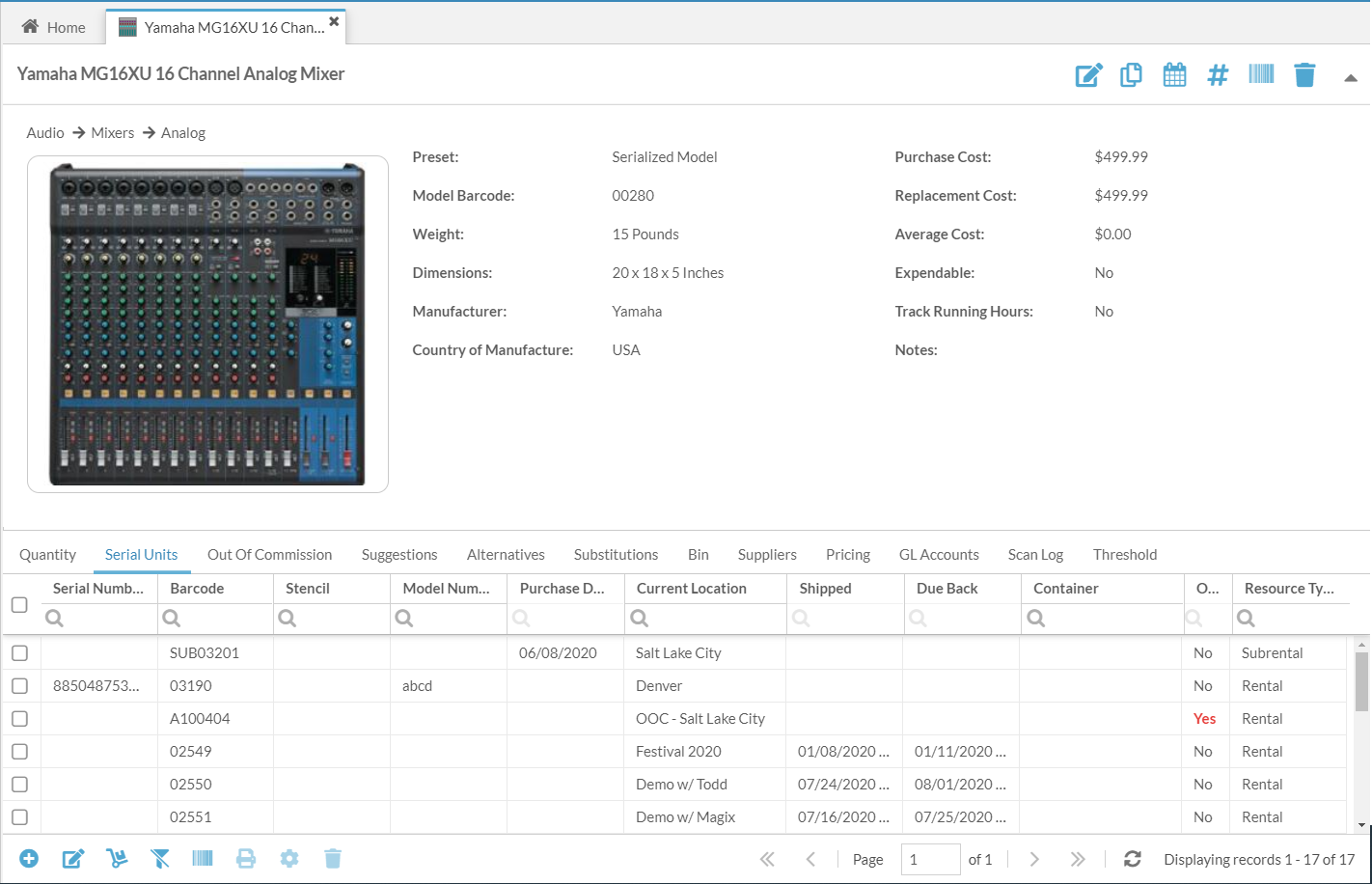 Icons which can be clicked to preform various functions appear in two groups- at the top, and, when applicable, at the bottom as well. Note that on inventory models, the bottom set of icons does not necessarily appear on every bottom tab.
Some of these icons may appear on both the top and bottom portion of the detail block, and function depends on context. You can mouse-over each icon to show the labeled function.
Edit Model/Bulk Edit - Depending on context, will allow editing of inventory models or units, groups of units, or other elements.
Copy - Allows copying of entire elements and models, depending on context.
Schedule - Where applicable, shows a calendar view for a model's utilization over time.
Count - When available, can be used to reset model quantities to count actual on hand quantity in your warehouse, otherwise pertains to inventory depending on context.
Print Barcode Label - Depending on context, will print labels for inventory for either the inventory model or specific units.
Delete - This icon indicates that an element can be deleted- shows up twice in inventory, for the model and for units.
New - The presence of this icon indicates the ability to create a new entry on a list where this icon is present. Appears for inventory units as well as settings screens.
Move - Clicking this allows you to move either a whole element, or move units from one model to the other depending on context
Clear Filters - In filter-able and sort-able lists, like those found under the Projects menu, or areas of the Details block which show lists of information, such as for inventory units, clicking this allows you to clear any filters you have set.