---
Overview
There are several scanning types that can be enabled for the prep and return process. By default, equipment receives a prep scan when it is leaving the warehouse followed by a return scan once it is back in the warehouse. However, some companies desire a two-step scan-out process. A ship scan will typically take place after the prep scan, as the equipment is getting put onto a truck for delivery. This article will review how to enable and access the ship scanning screen.
---
Enabling Ship Scanning
In the

Main Menu,

click the

Projects

menu, and click

Element Definitions.
Double-click the Manifest to open.
Select the Shipping & Receiving tab.
In the Ship section, enter a Ship Verb (ie "Ship"), Ship Present Participle (ie "Shipping"), and a Shipped Status.

Note: The status that is selected as the Shipped Status will apply to the Manifest after the ship scanning screen has been finalized.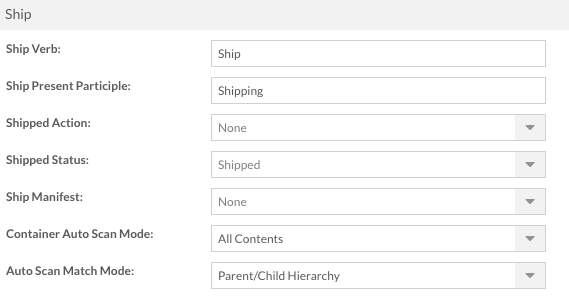 By default, equipment is scanned out of the warehouse and unavailable after Prep scans. If you would like this to be triggered by Ship scans, go to the Inventory Settings page (located on the Inventory menu) and set Journal Out On Prep to "No".
---
Accessing the Ship Scanning Screen
After the equipment has been prepped, navigate to the Manifest.

Click here to learn more about the ways to open a Manifest.

Select the

Warehouse

icon in the Workbench menu and select

Go to Ship Screen.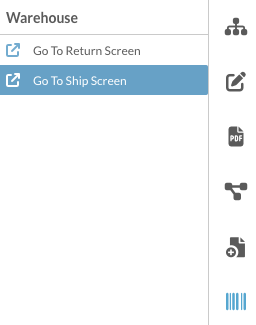 The Ship scanning screen will provide you with a list of the equipment that was prepped. Once the ship screen is finalized, the Manifest will move to the "Shipped" status.
---